2020 : virtual event
View current leaderboard here
After 40 years of continuous operation, The Seven Hills of Edinburgh race will not now take place this year: observing social distancing with over 500 runners − plus supporters and workers − is just not feasible. And any attempt to do so would compromise the attractive mingling / picnic atmosphere of the event.

Instead, a virtual event will take place throughout the month of August, with competitors running the course solo and sending in their time for results. Full details below...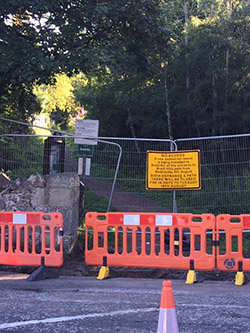 Braid hill track closed off at Braid Road until August 18th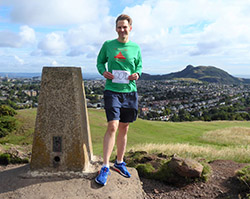 Early entrant Alex Kerridge, with own number
Dates-window
Participants are to run the full course – solo -- within the dates-window Saturday 1st to Monday 31st August (both days inclusive).
Course notes
You must visit the 7 checkpoints, but you can start-and-finish at any point on the course... checkpoint or other. And you may run the course clockwise (normally anti-clockwise).

Calton Hill's checkpoint is the trigpoint.
At the Castle esplanade, the checkpoint is just before you turn left down the steep steps onto Johnston Terrace.
At Corstorphine Hill, the checkpoint is Clermiston Tower.
At Craiglockhart Hill East, the checkpoint is the metal bench at the hill top.
Braid Hill : wooden bench at hill-top.
Blackford Hill / Arthur's Seat : trigpoints.
[Do not touch any of the markers]
Competitor notes
Participants are responsible for their own safety and health. And toileting arrangements. And food & drink supplies (there is an outside water-tap on your right at Craiglockhart Tennis Centre as you run through between the two buildings). Rhubarb tart: bring your own.
Scottish Athletics advise that you tell someone when you're going out to do the run, and that you should carry some Id.
Maintain 2m social distancing at all times.
Entering
There's no pre-entry requirement. After doing your run, send an email to the virtual organiser, Alan Lawson, on
aylawson@btinternet.com
putting '7Hv' plus your name as the Subject. In the Text, put:-
Your Name
Club (optional)
F (if female)
Age (years, on day of run)
Time (in format H.MM.SS)
Comments eg, Start/Finish point (optional)
Photos (optional)
Competition rules
There is no entry-fee.
There is no Race/Challenge division.
There is no maximum time limit.
Competitors can make more than one attempt.
Prizes: certificates will be awarded to podium placers and age-group winners (but it's really for the glory!).
Coaster: after you send in your time you will be entitled to copy the design below to make your own coaster (from cardboard or something).
An updated 'Results-to-date' will be made available on the website every day throughout August.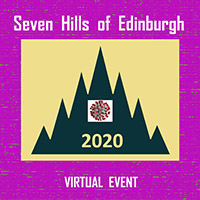 * * * * *
MapRunF : Some runners may want (it's entirely optional) to make use of an App for iPhones called MapRunF, which records your times and ensures that you visit all the checkpoints (it goes bleep when you get to within about 10m of one). 7 Hills enthusiast Martin Caldwell (Corstorphine), with the assistance of ESOC, has added this event to the large list on MapRunF. So,,,

1. Download MapRunF (it's free)
2. Fill in your personal details.
3. Select this event (Scotland / Edinburgh / 7Hills).
4. Choose a checkpoint as your starting-point.
5. It's a rolling start: as soon as you come within 10m of a checkpoint it will bleep for your start and you must go!
Note: if you run the course clockwise, MapRunF will record your run normally but will declare your efforts a 'Mispunch',,, but you don't need to worry about that (it's an orienteering thing).

= = = = =