2021 event, Report
The Race was won by James Dunn (Corstorphine) in the very fast time of 1:36:14. with Hamish Wolfe (Carnethy) 2nd, and Scott Fraser (HBT) 3rd.
The Women's winner was Jill Stephen (HBT) also a very fast time of 1:53:43, with Elizabeth Leason (Carnethy) 2nd, and Katie Williams (HBT) 3rd.
Vets: The M50 winner was Andrew Macrae (Carnethy) in 1:50:47, with Iain MacLeod (Corstorphine) 2nd, and Neil McLure (Carnethy) 3rd. The M60 winner was Roddy Mackenzie (Musselburgh) in 2:28:00. Jimmy Hudson won the M70 prize with 2:31:47.
The F45/55 winner was again Rhona Anderson (Dunbar) in 2:16:54, with Megan Wright (HBT) next best.
Teams: Winners of the Team Prize were Hardly Bothered Training, with Carnethy teams 2nd and 3rd. Best all-female team were Hardy Bloody Trottetes.
* * *
There were 158 finishers in The Race, and 180 in The Challenge.
Thanks to runners who helped or offered to help the distressed runner on the way up Arthur's Seat; he is now ok.
28 bicycles were noted, tied to the railings... a record!
Full results available now on the Results page.
* * *
PHOTOS...
Photos at Braid Hill top (by Gerald Higgins) HERE
Photos from the Allotments (by John McCurdy) HERE
Photos from the prize-giving BELOW...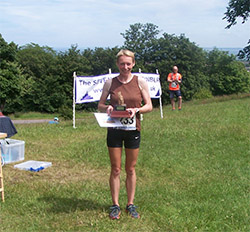 Jill Stephen, HBT, Women's race winner.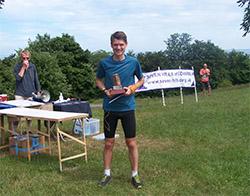 James Dunn, Corstorphine, Race winner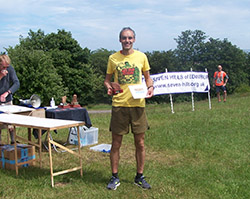 Andrew Macrae, Carnethy, M50 winner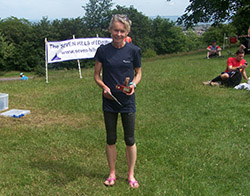 Rhona Anderson, Dunbar RC, Female vet winner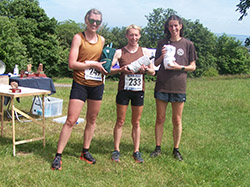 Best women's team: Hardy Bloody Trottetes, Katie Williams, Jill Stephen, Megan Wright
Two-thirds of Hardly Bothered Training, winners of the team event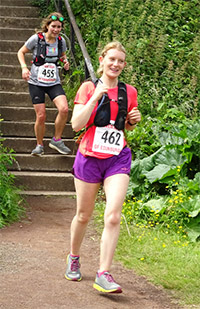 Challenge competitors Flora Fuller followed by Juliana Eaton coming down the steps at the allotments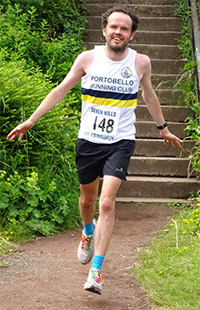 Lee Hutchison of Portobello flying down the steps in The Race