2017 Event : Report
RACE: The winner, as in 2015, was Dessie Flanagan (Carnethy) in 1:41:49. with Johnny Lawson (Portobello) 2nd, and Liam Braby (Carnethy) 3rd.
The women's trophy was won by Megan Wright (HBT) in 2:05:44, with Rhona Anderson (Dunbar) 2nd, and Karen Ellison (Stock Exchange AC) 3rd.
The M50 trophy was taken by Ian Duff in 2:04:07.
Martin Caldwell (Corstorphine) took the M60 prize in 2:17:03,, and the M70 prize was won by Alan Gordon (HBT) in 2:50:31.
The F45 trophy was won by Rhona Anderson.
Team event: 'Carnethy A' were the winning team (Flannagan, Reid, Hammond), with 'HBT Wreckage' 2nd (Gierjatowicz, Ward, Chepelin), and Portobello 3rd (Lawson, Geoghegan, Buchanan). Best all-female team were 'HBTF ' (Wright, Magill, Hope-Jones).
There was a record number of finishers, 459.
Full results can be seen on the Results page.
Doublers : The 2017 list of the super-heroes who did the Edinburgh Marathon and Seven Hills 'Double' can be viewed here.
* * * * * * * * * *
PHOTOS
From the Allotments, by John McCurdy and
on Arthur's Seat, by Allan Wilson.
here
VIDEO: A 14-minute video of The Challenge event, by Jim Sheach: here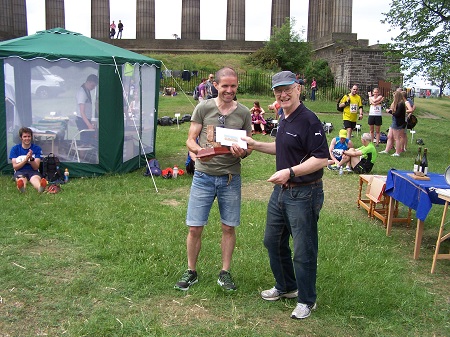 Race winner Dessie Flannagan, with Alex Jackson presenting the trophy.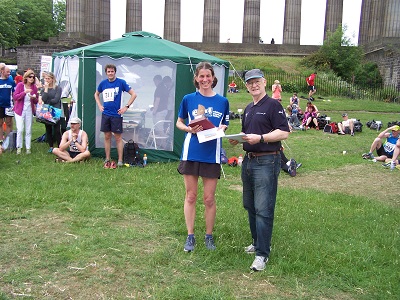 Female race winner Megan Wright.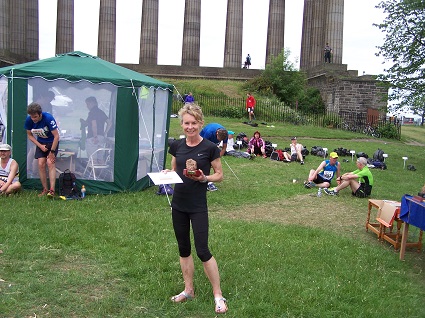 Rhona Anderson with the F45 trophy.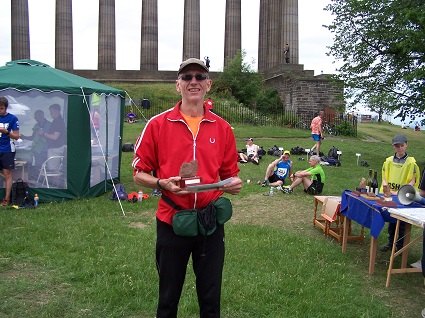 Ian Duff with the M50 trophy.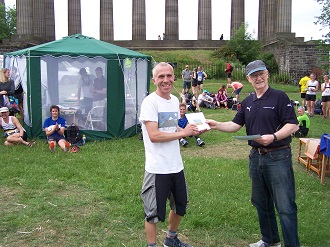 Johnny Lawson, Portobello, 2nd in The Race.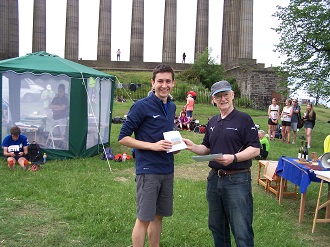 Liam Braby, Carnethy, 3rd in The Race.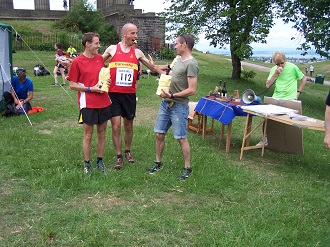 Team-prize winners, Carnethy:
Michael Reid, john Hammond, Dessie Flannagan.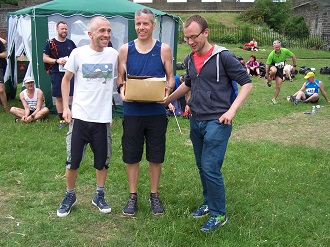 3rd team, Portobello:
Johnny Lawson, Peter Buchanan, Michael Geoghegan.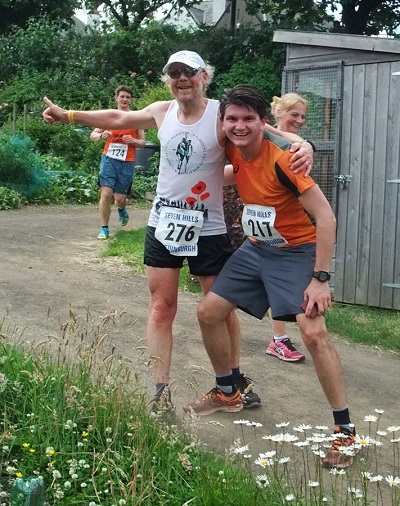 Henk Vermass and Raoul Nielen from Holland
at the Allotments.