2019 event : report
RACE: The winner was Sam McCutcheon (Corstorphine) in 1:37:21, with Dessie Flanagan (Carnethy) 2nd, and James Dunn (HBT) 3rd.
The women's trophy was again won by Nicola Duncan (Carnethy) in 2:05:46, with Elizabeth Leason (Carnethy) 2nd, and Eilidh Yates (Edinburgh Tri) 3rd.
The M50 trophy was taken by Peter Buchanan (Portobello) in 1:55:27.
Alan Hogg (Carnethy) took the M60 prize in 2:13:06.
The Women's vet trophy (over 45) was again won by Rhona Anderson (now F55) (Dunbar RC), with Kathy Henley (Carnethy) best F45.
Team event: Hardly Bothered Training (geddit?) were the winning team , with Carnethy being the best all-female team.
Number of finishers: 513.
COLLAPSED RUNNER: Thanks to all runners who sacrificed their own times to stop and help the collapsed runner on Arthur's Seat; he is now ok, and appreciative of attention received.
Results of Race / Challenge / Teams here
Superheroes of The Double (Edinburgh Marathon and Seven Hills) here
Photos from the allotments, by John McCurdy here
High-speed video of Corstorphine here
Event video by the Sheach family https://www.youtube.com/watch?v=a-fQcqX3tfU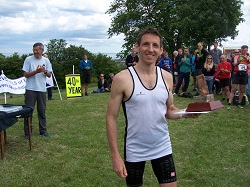 Race winner Sam McCutcheon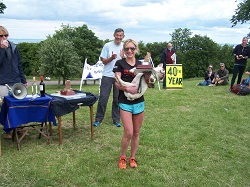 Female trophy winner Nicola Duncan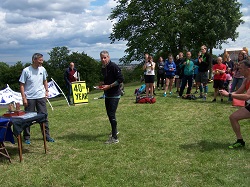 M50 winner Peter Buchanan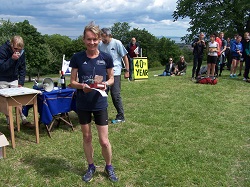 Rhona Anderson, winner of the women's vet trophy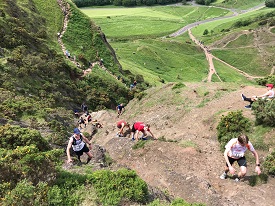 On Arthur's Seat, as taken by Canadian competitor Evan Dorward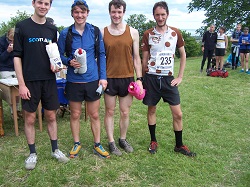 Team winners Hardly Bothered Training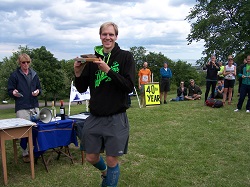 Pascal den Hartog retained the Best Dutch Runner trophy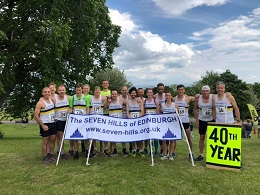 The Sporty Porty's finest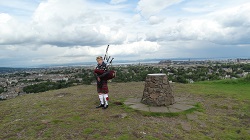 Young piper Angus Millar playing on Blackford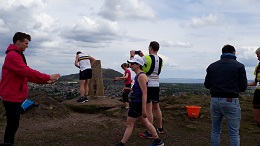 All action on Blackford Hill